I'm Damon; a commercial photographer specializing in product photography and I have a centrally located Christchurch studio. I particularly enjoy photographing the difficult stuff; like blacks, stainless-steel, glass and translucent's.  I will instill a positive vibe into your product or brand.
Most of my day to day photography involves capturing manufactured products from normal New Zealand businesses. My difference is simply that I make my clients look a lot better than the other's. The work on my Portfolio page features my best work, and the slideshow below shows everyday product photography. It is making these products stand out with a high quality vibe & appeal that drives my client's success. Consistently producing this high quality photography requires custom lighting and effort.
An example; I have a regular client who ship's Home-wares into Amazon stores USA. They sell the same items as other sellers, yet they are a lot more successful than them, because they re-brand and employ me to make their Amazon photo's. The increase in sales, makes a little extra in photography cost a very sound investment.
This Ngai Tahu Clams is one of my favourite images. A Kete bag in sunlight looks deceptively simple but required a complex studio setup; making a 'shaft of sunlight' and painstakingly arranging 'selected' Clams to cascade within the bag. This subject could have been done much quicker, but the result would not look anything like this.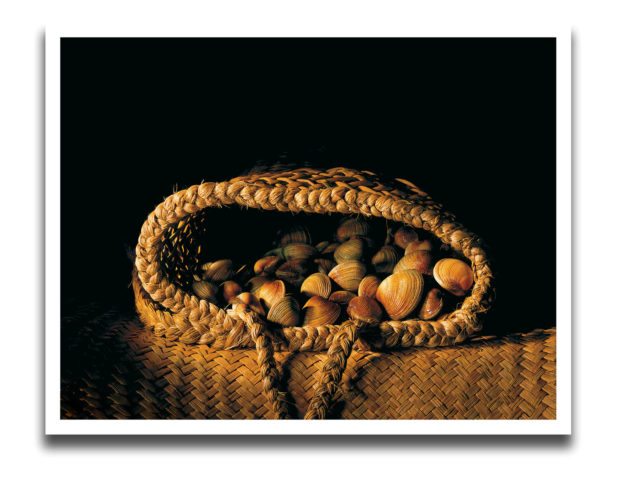 Note to creatives:
Are you an Art director or designer that is new to directing photography?  Maybe you're a bit unsure about how to work with a photographer? Just give me a call. We'll chat about the process of working together; with helpful starting points, like a visual or some example images. You will get the satisfaction of creating original, outstanding work, and your client wins with an effective image which is uniquely their own.