INSTILL is a photography studio/ gallery, located inside Christchurch CBD East frame. It is the base for photographer Damon M and Building Image Photography.
Specialties of the studio include: still life, advertising and architecture, particularly the tricky stuff like black's, stainless-steel and translucence's.
'This is one of my favourite images and was created for Ngai Tahu Seafoods; 'a Kete bag in beautiful light', it looks simple, but required a complex studio setup; with a projected 'shaft of dappled sunlight' then painstakingly arranging the 'selected' Clams to cascade within the bag'.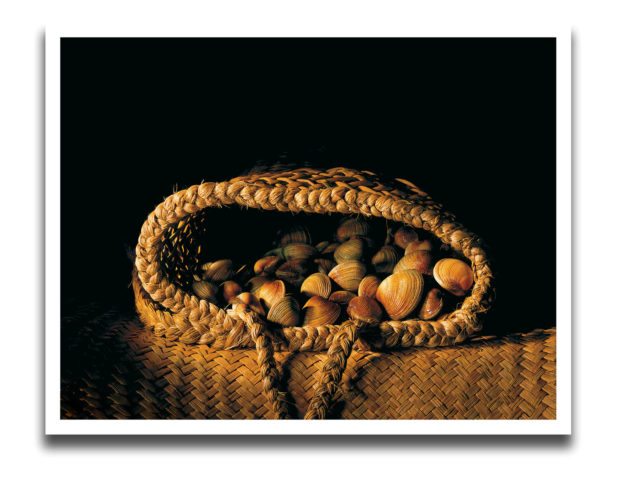 These usual everyday product photographs stand out with 3D light, flattering tonal range and a high quality vibe, that is the INSTILL difference.
A note to creatives:
Are you an Art director or designer that is new to directing photography?  Maybe you're a bit unsure about how to work with a photographer? Just give me a call. We'll chat about the process of working together; with helpful starting points, like a visual or some example images.
I have to mention STOCK photographs; you know, those stereotyped pictures from international photo stock agencies (well; they are hurting the viability of commercial shooter's like me). OK, sure; stock is quick, cheap and easy, but stock images have no real story, no genuine link with a product or service. If the actual product or service does not appear in your promotional material- then have you lost a measure of trust?, missed out on an effective connection?  And; do you know where your 'used' stock image has been?  You certainly don't know who is going to use it next.
Why put yourself through hours of searching for a stock library photo? -only to end up with that obvious 'stock look'; making your marketing material seem just the same as everyone else's. Instead, get the satisfaction of creating original, outstanding work, and your client wins with a more effective image which is uniquely their own.